Daily Specials
Tuesday
Three Barbacoa or Fish Tacos and a 16 ounce Core draft for $12.95!
Wednesday
$12 for 12 smoked wings and a 64 oz. pitcher of Copper Harbor
If purchased separately individual wings are $.60 each on Wednesday with purchase of a beverage.
Thursday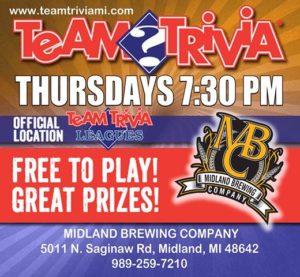 Team Trivia on Thursday nights at 7:30!
Sunday
Sunday Brunch and Dinner Menu
Featuring brunch items and MBC favorites!
---
Restaurant location and hours:
5011 N. Saginaw Rd.
Midland, MI 48642
Monday-Thursday: 11:00 a.m.-10:00 p.m.
Friday-Saturday: 11:00 a.m.-11:00 a.m.
Sunday: 11:00 a.m.-8:00 p.m.
Menus:
If you find yourself at Midland Brewing Company, Monday through Saturday, check out our main menu. Our Sunday Brunch and MBC favorites is only available on Sundays. Not everything on the main menu is available on Sundays so be sure to take a gander!
---
Place your restaurant order online for pick up at the restaurant!
---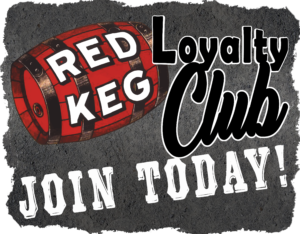 Red Keg Club Loyalty Program
Get points for beer purchases made at the brewery! No cost to join!
Every dollar you spend on beer, cider, and mead gets you one point (beer specials excluded)
1 point = $0.10 that can be used toward future beer purchases
Discounts apply to the card holding member only and they must present their card to receive Red Keg Club discounts
---